Party update 40 Jaar Stad.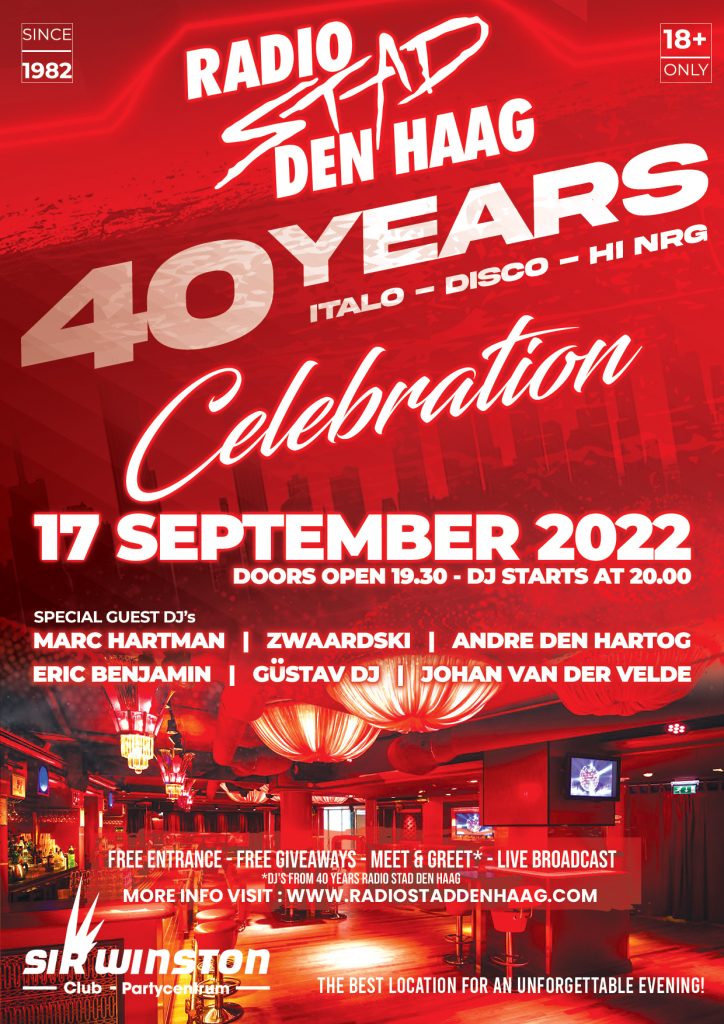 Als het goed is hebben jullie je allemaal ingeschreven voor de feest avond a.s. zaterdag avond. Zo niet, dan kan het zijn dat je er niet in komt maar…don't worry, we gaan live vanaf de Club dus je kunt lekker alles thuis beluisteren, 6 DJ sets met het beste van de afgelopen 40 jaar Radio Stad.

Als je wel komt naar Sir Winston…. zorg dat je gegeten hebt, De Halve Maan beneden is zo goed als vol.

Parkeren kan op diverse plekken en op loopafstand.

Langs de lange Kleiweg is een parkeerplaats, even klein stukje lopen door weer en wind en via de Halve Maan naar binnen en de trap op.

Zorg dat je je 'ticket' op je telefoon klaar hebt dan wel een screenshot van de poster. Dan weten de mannen aan de deur dat je goed volk bent.
Zaal gaat om half 8 open, de eerste set begint om 8 uur.

Wij vieren ons 40 jarig bestaan met jou!
Radio Stad Den Haag, 'Where it all started'
1982-2022 let's Party! Tot Zaterdag!



The whole year we celebrate that we excist 40 years but this upcoming weekend is for you!. If you come from abroad to the venue saturday night be ware that the Pub Restaurant might be fully booked. The doors of the club open at 7:30 pm CET, first set starts at 8pm CET. Please show your free 'ticket' or download or print a picture of this poster in this blog so the men at the door know that you are part of our family and so let you in.

Hotels nearby are The Sir Winston Hotel, Ibis Hotel or a B&B of your choice in the town called 'Rijswijk'.
The location of the Sir Winston Club is not very spectaclulair. You could visit the 'old town' of Rijswijk with several restaurants, 10 minute drive from the club. It is called De Herenstraat. For your info… Albert One used to visit this old part of Rijswijk many many years in a row with his Rosy and had dinner at the Italian resaurant Grand Sasso nearby.
Good luck! have a good trip. and we see you saturday. For the ones who stay at home…day and night, saturday & sunday we are live via our stream.