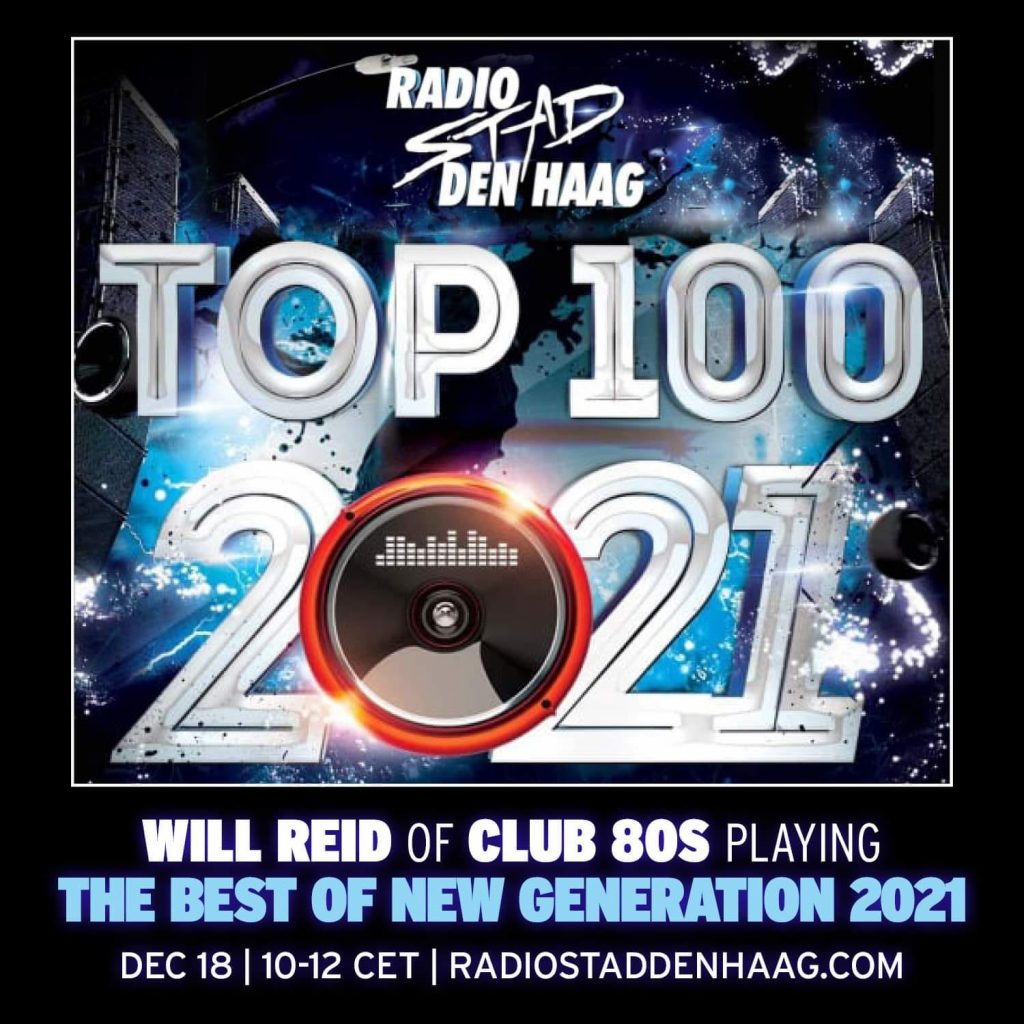 10-12pm CET (9pm UK time)– What a tradition…
Will Reid, part of our crew and of Club 80s warms you up with the best of New Gen and New Italo productions of the last year; 2021.
Pre recorded show especially made for you!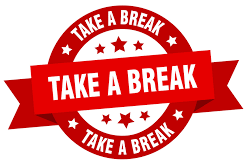 12-1pm CET – Break Time/Running up…
In this hour we give you time to; Walk the dog, fill your fridge, settle down, eat a sandwich but we also have a quick chat with Will Reid.
You see the notary coming in with 100 pieces of vinyl, we will ask them what their experiences where this year and so on…All to prepaire you for….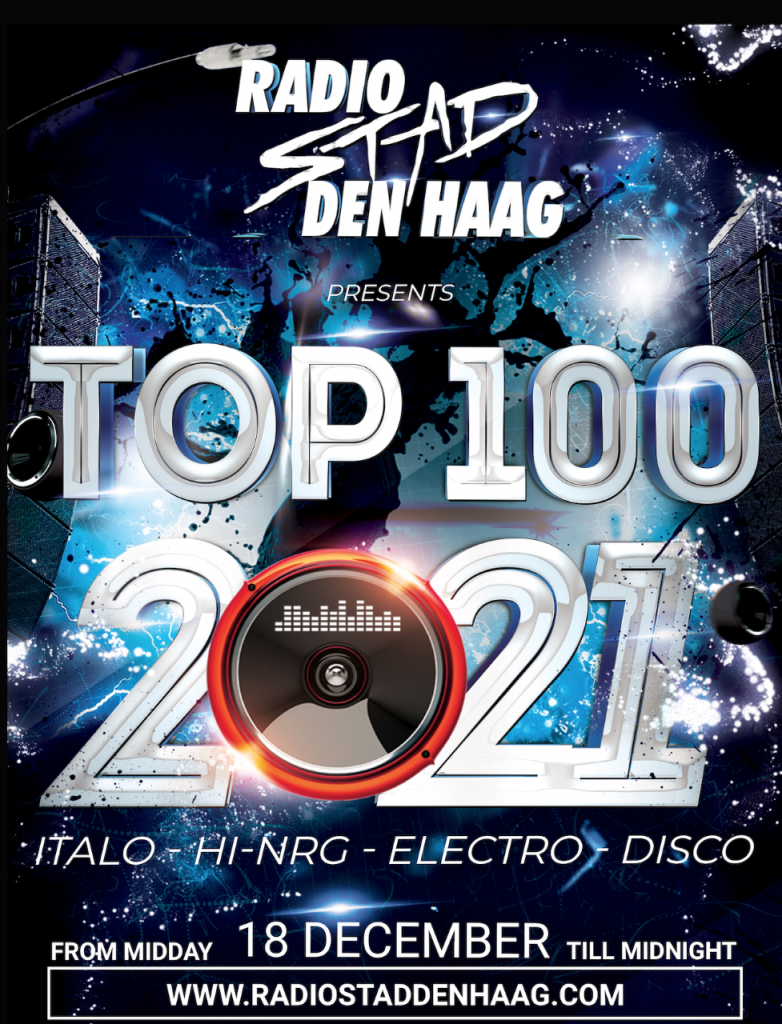 1pm CET (13:00 CET)-The moment we all have been waiting for. You have voted! The 17th Edition of the Top 100 is a fact. And no joke, but the submissions increases every year. An enormous amount of votes came in, giving our notary Jos & Dimitri headaches.
If we would air a Top 1000, you all would be pleased to see your vote in this chart but.. Its only the Top 100 Ranking. 100 Fantastic, classic, new and well known Italo, High NRG & Electro tracks anounced by the following DJ's counting down your submitted votes and choices:

1-2pm CET – Gwen, Menno, Michiel
2-3pm CET – Herman & Eddy Mi Ami
3-5pm CET – Ron Mc Donald
5-6pm CET – Marco di Luna
6-7pm CET – Michiel
7-8pm CET – André den Hartog
8-9pm CET – Marcello & Paolo Jay
9-10pm CET – Menno & Gwen
10 till closure – Michiel, Gwen, Menno and all guests in the studio revealing this years Number one!
Around midnight we will have the champagne ready!
Thanks! For making it the best chart ever!

You have made this possible! The ones who did not back up for this difficult challenge to vote out of thousends of great tracks. We know it has not been easy but, because you did, we award you with a prize. If… we draw your name. Every half hour in the show, we pick out of the submission 2/3 names winning one of those fantastic prizes thanks to our connections with Record labels, artists, friends and companies.
The prizes are;

5x CD from ZYX Music & brand new CD's from Flashback Records
2x CD I Venti d'Azzurro Records,
1x CD Blanco y Negro Music
2x 50 euro voucher to spend in the webshop of Bordello A Parigi
2x 50 euro voucher Bar Restaurant Partycentrum Tout Le Monde
1x RSDH cityblaster fireworkbox filled with legal firework worth 100 Euro from Vuurwerk Raben
1x exclusive t shirt from Blanco y Negro Music
RSDH Mousemats
Presents from BCC Delft
1x Domino pizza voucher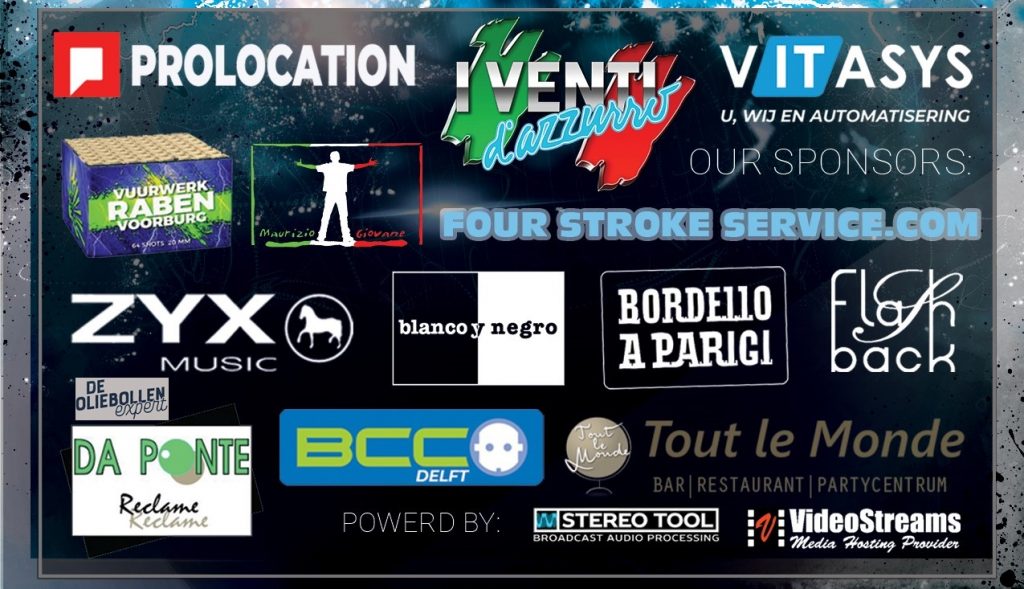 Special thanks to Maurizio for artworks, flags, posters & support.
Mille Grazie to Jos & Dimitri for hard work behind the scenes counting the votes & unraffle all the impossible submissions. Kees K. for being incorrect sending us through on FM. Ewald for being 'in the back office'.
Vitasys company for ungoing support for the inner Human being in hard, soft and liquid way. Raben family for always being there even for our clothing. Raymond Dijkxhoorn of Prolocation. Radio Stad is no where without the unselfish that assist us. We thank you all! If your name is not mentioned here..leave a note. Cant asure we answer 😉