Beste Luisteraar!
Leuk dat je mailt met de studio.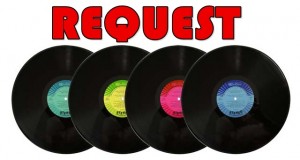 Wij behandelen jouw verzoekje en/of  bericht in de live show op zondag-avond tussen 8 en 11 uur s'avonds.
Dear Listener,
Thanks for mailing the studio.
We will play your requests and read your message in the Sunday evening Live show between 8 and 11 pm CET.
(853)
(223) Willem


zo, 7 februari 2016 19:57:37 +0000
---
Hallo radio gasten!

hoe gaat ie daar?

Weer lekker gemixt .... mijn complimenten!

heel veel succes met dit geweldige show!

grt,

willem


(222) Gijs


zo, 7 februari 2016 19:53:26 +0000
---
lekkere live mix!


(221) Remco VLD


zo, 7 februari 2016 16:58:54 +0000
---
Goedenavond Stad-ers,
Altijd gezellig en altijd leuk die zondag middag / avond.
Aan de ene kant wat pc's configureren / repareren en aan de andere kant die 'oude' muziek uit de 80 jaren.
Ja, wie is er niet groot mee geworden
Is het niet weer eens tijd om de NON-Italo top 40 te herhalen ??
Maak het een 5-jarige evenement.
Ja de vorige / de eerste editie als bijna 5 jaar geleden.
Als ik een muzikaal voorzetje mag doen, die zo de lijst ik kan, dan is het wel iets van de The Quick.
Zulu, Young Men Drive Fast of toch die ene:
Rhythm Of The Jungle ! (mijn verzoekje)
Heerlijke begin jaren 80 muziek uit engeland.
Weer eens wat anders dan Italo....
Fijne avond !
Groet Remco uit Vlaardingen
hello guys,

Vandaag op de 7e februari 2016 met een schitterende mooie voorjaarszondag daar hoort een knallende italo en space synth bij;

als ik op mijn gehoor af ga denk ik met de nu volgende compilaties een leuke keuze te hebben aangedragen:

1: Frohm - Cendres (heerlijke franse italo vocal met de bekende synth klanken erom heen).
2: Spiral - Without You (keiharde space synth met mooie vocoder en aanwezige bpm ) (geen horror ;-0 )



(219) Camiel Ogier


za, 6 februari 2016 14:41:00 +0000
---
Beste Gwen, Michiel en Menno,

Kunnen jullie Voyage- 'Discotch' draaien als herinnering aan de Marathon ?
Of eventueel een stukje van A Break night in the Marathon (LP)?
Hartelijke groet,

Camiel


(218) Sebastian


wo, 3 februari 2016 21:44:45 +0000
---
Helloooo !!! RSDH keep the good rithms flowing !!Good Job!!

U Bhan X - Young Hearts of Europe

Thankss!!!


(217) dizzydevil


zo, 31 januari 2016 21:44:00 +0000
---
Hi Guys i know you often use the Floral dance in the background could you play the full track by Terry Wogan in honour off his passing ? in the U,K he was Mr Eurovison
(216) andy maclennan


zo, 31 januari 2016 20:35:28 +0000
---
Hi Guys can I request Magika - I know Magika love the show Andy and Lesley Maclennan


Request from Finland:
The Jock Hattle Band: To be or not to be


(214) Hugo


zo, 31 januari 2016 18:58:42 +0000
---
zou graag sweet connection-i need your love willlen horen!


(213) Marco Rijswijk


zo, 31 januari 2016 18:12:01 +0000
---
Om de overwinning op Feyenoord te vieren hierbij een toepasselijk verzoekje!
Martinelli - Viktoria
Dank en groet!
Marco
(212) jack


zo, 31 januari 2016 18:10:56 +0000
---
Hey, goedenavond allemaal.
vorige week bij de Iventi show kwam er een leuke plaat voorbij waarvan een aantal mensen in de chat graag wilde weten wat dat was. Bleek Program 4 Feat. Mark Brandy - Bam Bam (80's again mix) te zijn.
Mogelijk kunnen jullie deze in de show voorbij laten komen.

groetjes,
Jack.


hai guys rsdh,

Deze week niet veel aanbod van nieuwe space synth, weliswaar veel spacesynth mixen dus hebben we er gewoon eentje uit de kast getrommeld die het altijd goed doet bij het publiek, nee geen horror of dubieuze praktijken in de song maar gewoon Space synth van de bovenste plank........met een niet te vergeten good oldie remember Italo als sluit stuk of wellicht goed begin.

1: AMOK - Galaxy II
2: Vikki Benson - Easy love

Groeten uit een moordrecht oord,

teun


(210) Mister Italo


zo, 31 januari 2016 17:07:02 +0000
---
hello R.S.D.H!
i missed the bad boys blue of the 80's!
can you play sunday-girl from bbb!?
best wishes from germany!


(209) gunnar


za, 30 januari 2016 11:40:32 +0000
---
Recently bought some records by Obsession, love them!!

Obsession - Never Ending Story, I heard this song in the early 90s on German radio and never knew the name of the remix (original sung by Limahl)

Obsession - Love Insurance (House Insurance Mix) perfect HiNRG!!

Greetings, Gunnar


(208) Der Knoertie


zo, 24 januari 2016 22:25:50 +0000
---
Hallo lieve mensen,

Dank jullie wel voor het draaien van mijn request. Stel dat zeer op prijs. Nog een hele succesvolle avond, doe Fred de groeten van mij en tot volgende week ! Ik blijf luisteren ....

Nogmaals dank,

Der Knoertie


(207) Jack


zo, 24 januari 2016 22:21:13 +0000
---
Fred can we expect a new release on Fonogrammi Particolari soon, what will it be???

any ideas?


(206) Delta


zo, 24 januari 2016 21:59:21 +0000
---
Verzoekje voor Fred, vind ie denk ik wel leuk..
The Shamen - Moove Any Mountain
Gaarne de YouTube clip...
Groeten, Alex


(205) Gunnar


zo, 24 januari 2016 21:27:44 +0000
---
How about playing Fred Ventura - Zeit, I like it very much
Or Sharon - Boyfriend (also sung by Federico)
(204) Maurizio Giovane


zo, 24 januari 2016 21:25:33 +0000
---
Question to Fred:

Will Fred give a performance on the Iventi Party 2016?


(203) Marcin


zo, 24 januari 2016 21:21:09 +0000
---
Hello gang and Fred. My request would be to hear more songs chosen or made by the legendary Fred Ventura if it's possible.


(201) Jack


zo, 24 januari 2016 21:07:29 +0000
---
Hoi allemaal daar,

misschien kunnen jullie voor mij draaien: Pauli vs Alden Tyrell - Little (SYD remix)

een intrumentale electro plaat uit 2007 van Mr. Pauli en Alden Tyrell

mogelijk kan Fred iets vertellen over zijn eerdere samenwerking met Alden Tyrell.
en mogelijk iets in de toekomst?

groetjes,
Jack


(200) Delta


zo, 24 januari 2016 21:02:20 +0000
---
Verzoekje: Fred Ventura - Don't Give Up ( Italoconnection Mix) filmpje YouTube?
Groeten, Alex


(199) andre vd meer


zo, 24 januari 2016 20:53:46 +0000
---
Gezellig luitjes ik luister gezellig mee vanavond ff een beetje andere klanken als die normaal mijn trommelvliezen passeren......groetjes aan michiel en gwen

ps mocht je tijd hebben draai viccio latino que pasa que pasa voor me? groetjes Andre


(198) john Davis


zo, 24 januari 2016 20:51:46 +0000
---
Hi Guys,
Loving the show tonight,can i just say thank you to Fred,from all of the Club 80s listeners for the wonderful interview he did with Will Reid,and thank you for your music past,present and in the future
Cheers
JD
(197) Der Knoertie


zo, 24 januari 2016 20:35:41 +0000
---
Attiles - You and Me (van de Friendly Fire E.P.)

Dank jullie wel,

Der Knoertie


(196) Remco VLD


zo, 24 januari 2016 15:27:41 +0000
---
Goedeavond beste stad-ers,
Complimenten voor de vrijdagavond mixen.
Heb er van genoten..
Twee platen blijven in mijn geheugen zitten de laatste tijd.
Bolero met I Wish en Miko Mission met Universal Feeling.
Ik laat het geheel aan jullie -muziekmakers- over welke er op de draaitafel beland.
Veel succes vanavond met Fred Ventura.
Dat er voldoende van het Disco Modernism label gedraaid mag worden
Evviva
Remco VLD
hello guys,

in tegenstelling tot mijn eerste request het volgende:

Als space synth had ik geopperd " Italover - Summer Romance "maar nu met terug luisteren vind ik " Marcel de Van met In My Dream [ Maxi Edit ] " ook niet geheel verkeerd de eerste is een meer warme space synth en de tweede van marcel heeft weer de vocoder in zich zitten laat menno het even bestuderen beiden zijn kanjers....

info: de nieuwe Cd van Michiel van de Kuy komt begin april uit liet deze weten via zijn Fans op Facebook zie foto in de dbase !


hello guys,

Het is zondag dus Big ITALO day, voor vanavond in the night life show heb ik de volgende verzoek compilatie's bedacht:

1: Alex Chroma Band - A New Day (old school)

2: Italover - Summer Romance (space synth)

succes met de uitzending en groetjes vanuit ergens in moordrecht.