Beste Luisteraar!
Leuk dat je mailt met de studio.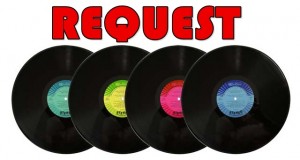 Wij behandelen jouw verzoekje en/of  bericht in de live show op zondag-avond tussen 8 en 11 uur s'avonds.
Dear Listener,
Thanks for mailing the studio.
We will play your requests and read your message in the Sunday evening Live show between 8 and 11 pm CET.
(853)
(283) Vodna Boyz


zo, 13 maart 2016 19:28:11 +0000
---
Hello everyone,

please could you play something from Divine this week.

Last Monday, March 7th marked the 28th anniversary of his passing.

Love From Vonda,



(282) Marco Rijswijk


zo, 13 maart 2016 19:06:35 +0000
---
Dat was weer een erg gezellig Wollebrand gisteren!

Vond wel dat de muziek erg hard stond, maar misschien word ik wel een ouwe lul ;-).

Hoorde wel weer een knaller die ik graag als verzoekje wil inbrengen:

Primadonna - Flashing On The Floor

Dank en groet!


(281) Kenny Davidson


zo, 13 maart 2016 18:36:15 +0000
---
Hi everyone

Great to be here again listening to the awesome music and watching the fun in the studio.

I'm confused by the time difference today as we put the clocks forward by 1 hour in Canada this weekend. Anyway I'm at least here for the show today.

Wishing everyone has a great week ahead.

Today's request... Do Piano - Again






(280) Jack


zo, 13 maart 2016 18:00:43 +0000
---
Hey stadders,

leuk verzoekje voor vanavond: Krypton - Tokio Girl uit 1986

refrein blijft gelijk lekker in je kop hangen

groetjes,
Jack.


hai guys,

De dagen beginnen weer lekker te lengen en dus komt het voorjaar in zicht,hierbij een paar lekkere Italoo's die alvast een zomers tintje aandragen.

1: Danielle deneuve - the rising sun (vokal happening)
2: Ryan Paris feat. Valerie Flor - Sensation Of Love (old school)
3: Neuton Mouse - Night Talk (SpaceSynth) (ItalovoicesThirtysix)

en vergeet de nieuwe: Heaven42 Feat. Mirko Hirsch - Strong To Fight (Extended Version) ( dit betreft het nieuwe duet van mirkohirsch en Amaya op de ZYX NGR-8.)

Groeten,

teun.

ps. Wij gaan ook naar het Iventi event in Milan.



(278) Willem


za, 12 maart 2016 19:22:22 +0000
---
hallo radio gasten,

hier willem weer ... hoe gaat ie daar?

ik heb een verzoekplaatje: Mirko Hirsch ; strong fight

alvast bedankt.

veel succes met het programma!

grt,

willem


The charts in Europe are filled with household names like Adele and others celebrated only in their home countries. Can you name them? Let's take a look.


(276) Christian Shadlock


zo, 6 maart 2016 22:05:37 +0000
---
Hi Michiel / Gwen
Please play 'Sexual Fever by De Gama' if you have a chance.
Thank you
Christian


(275) Dennis


zo, 6 maart 2016 22:01:20 +0000
---
Alan Cook bad dreams (remix version zoals op max mix 2 the return als het kan) erg lekker plaatje,
nu wel gratis he
(274) Nigel


zo, 6 maart 2016 20:04:44 +0000
---
Hi Guys,
Feeling a bit cold here in the uk so can you please play this tune to make me feel warmer.
Thanks guys
Neil Smith - Help Me Through The Summer https://www.youtube.com/watch?v=lrJQOg4n5B8
(273) Dennis Verbeek


zo, 6 maart 2016 20:02:26 +0000
---
Hey daar , Willen jullie straks face to face van The Twins draaien ?
Groeten,Dennis


(272) johndavis7757@msn.com


zo, 6 maart 2016 19:56:43 +0000
---
Good evening studio,
I hope you're all well this evening....
Could you please play Heartflash by Linda Jo Rizzo.I can't wait to see her perform in Milan at the I Venti party,and i can't wait to finally meet you guys from RSDH
Many Thanks
John
hai guys,

Ik mag vandaag zelf live het RSDH team aanschouwen, hoeveel uurtjes techniek, behendigheid en liefde er in mooie italo verschuilt zit.

Ik wil zelf bij deze ook een paar leuke italo klanken toevoegen en mijn keuze is vervolgens gevallen op:

1: Marcel DeVan - Go Around Part II (space synth)
2: DJ Rocca & Fred Ventura - Looking For Love (oldschool Italo klanken)
3: Galera feat. Josephine Sweett - Sometimes (als cuver met bekende trekjes van een hele bekende italo)


(270) Elroy


zo, 6 maart 2016 01:13:36 +0000
---
Omdat ie zo lekker is en blijft: Alba - Only Music Survives


(269) Gunnar


za, 5 maart 2016 20:17:07 +0000
---
Happy Times!!!

David Adams - Stop The Time

Groetjes, Gunnar


(268) Ruud van Dinter


do, 3 maart 2016 10:43:19 +0000
---
Ik wou graag Reale Academia - She'is mine aanvragen of een andere plaat hartelijke groeten van Ruud uit Maassluis tegenwoordig en nu ik toch bij de 50 club hoor ,ik zou nog steeds een keer in de studio komen op Zondag, ik heb het adres , de wijk en de plaats, en a big Ciao!!!!.


(267) Christian Shadlock


wo, 2 maart 2016 21:14:36 +0000
---
Please play 'Kiss Me' by Stephen TinTin Duffy - Thank you, Michiel!


(266) Roland Bagi


wo, 2 maart 2016 20:42:34 +0000
---
My Dearest Italo DJs!
If it's not a big scandal and fits your "NON-Italo" evening please play me: T. Ark Under cover lover
Best Regards Roland from Hungary...
ps: ... I'm in work again...
(265) Wulpie wulp


wo, 2 maart 2016 20:28:41 +0000
---
Hallo kunnen jullie busta jones-dancing al over de world draaien een city klassieker
Mvg rene van der meiden


(264) Delta


zo, 28 februari 2016 22:32:56 +0000
---
For your live...live from Albert One...???


(263) sander


zo, 28 februari 2016 20:55:28 +0000
---
Hi Michiel, Gwen, Menno et al,

Mijn verzoekplaat is: Divine sounds met What people do for money.

B.v.d.
Sander.


(262) Edward


zo, 28 februari 2016 20:18:27 +0000
---
Hallo vriendjes en vriendinnetjes, ben even aan het werk met Stad op de achtergrond. Altijd gezellig. Draai voor mij maar eens How Long Last Love van Trans-X. Lekker plaatje, geproduceerd door Savino.
Ciao!
Edward


(261) Willem


zo, 28 februari 2016 19:39:30 +0000
---
hallooo radio gasten !

hoe gaat ie daar?

ik heb een paar verzoekjes, waarvan eentje menno er zeer blij mee zal zijn. het is wel new gen allemaal. is dat ok?

Mirko Hirsch - Video night (oei oei menno ...)
Peter Wilson - For the very first time

alvast bedankt en heel veel succes met de shooooooow ....

grt,

willem


(260) Jack


zo, 28 februari 2016 19:32:11 +0000
---
Hey Stadders,

ik wil graag een nieuwe release onder de aandacht brengen op 2x7inch vinyl:
Transport - Emotions (Flemming Dalum & Steen Gjerulff Remix)

https://www.youtube.com/watch?v=ojgccZifVSA

origineel uitgekomen in 1985

groetjes,
Jack








hai RSDH team,

Deze week heel veel problemen met alle up & download mogelijkheden die er maar waren en te bedenken.
Gwen weer terug op de basis van een wel bekomen heerlijk uitje ergens in Spanje?
nu hier heb ik dan weer toch een paar Italo knallers die het zeker weer zullen doen deze keer:

1: Field Of Mutants - The Story (spacesynth)
2: Mozzart - Devils Randevous (old school)
3: Space Love - The Lovers In Space (anosphere= xtra space synth)


(258) Gunnar


do, 25 februari 2016 21:13:08 +0000
---
requestje: "Premio Nobel - White Flame"

A lesser known song of this group, made in 1987. They were formerly known as "Flexi Cowboys".
Interesting fact: The vocals of Premio Nobel were performed (but not sung) by Jimmy Mc Foy.

Many Cheers, Gunnar


(257) Ewald Groen


zo, 21 februari 2016 21:17:26 +0000
---
Hoi Rien,
Wijzig de Youtube maar naar de audio van
SAVINO FEAT DAVID ESSEX VICTIM OF LOVE


(256) Ewald Groen


zo, 21 februari 2016 20:58:34 +0000
---
Hoi luitjes,

Mag ik Wolfsheim op de YouTube met Find your here , Find your gone?
Ik heb Chiel een fb bericht gestuurd met de link.

Grtz E


(255) Miranda


zo, 21 februari 2016 20:49:18 +0000
---
Komt tie dan Corina "DJ Rocca & Fred Ventura - Looking For Love (Italoconnection Remix)" Je gaat lekker ik doe het je niet na hoor te chicken hahaha. Alvast thxxx


(254) Georgios Malikoutis


zo, 21 februari 2016 20:11:40 +0000
---
Good Evening People,

This weeks request is a song I love from 1994. This is dedicated to Corina!! She is the Lady of Radio Stad this Evening!!!

https://www.youtube.com/watch?v=dH3G4XG9IHA