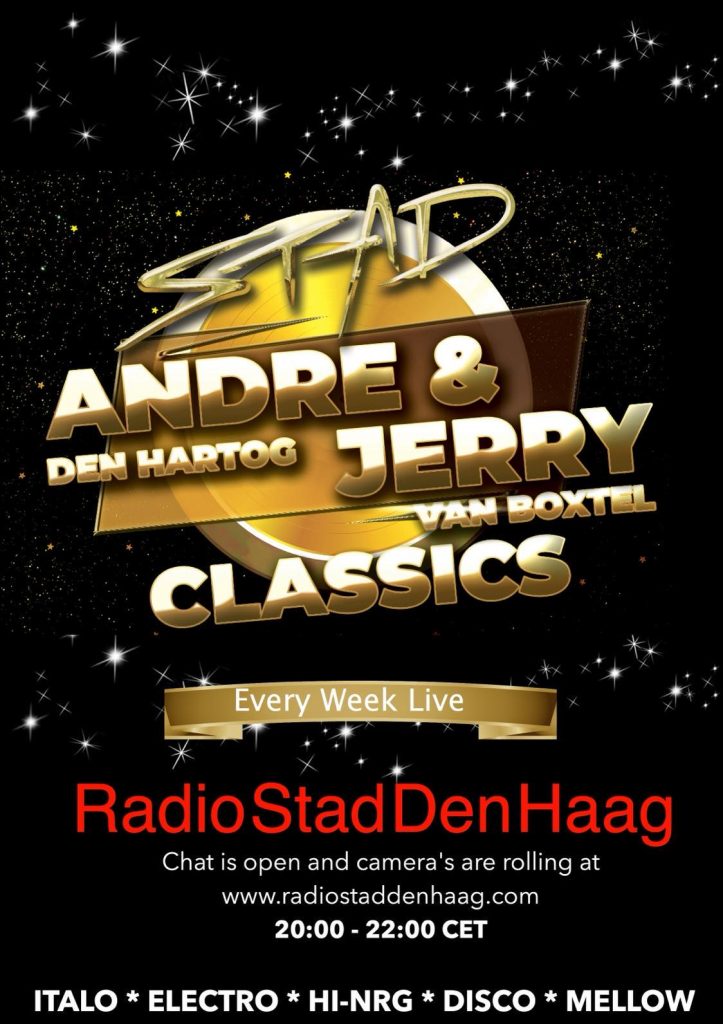 8pm CET- Settle down for a new 'Stad Classics' live show hosted by Andre & Jerry and Re-live your youth!

Andre used to be a club DJ in the 80s, has a huge vinyl collection and lots of music knowledge. Jerry is a huge High NRG lover and will give his own input to the show.

Expect music from the 70's, 80's, 90's. Music from the time you were dating and going to Clubs & Discotheques and..items like 'who sampled who' and other very nice music facts.

Watch it here and join our chat!

20:00 uur – Andre Den Hartog en Jerry draaien vanavond weer gave platen uit Andre zijn enorme platen-archief.

'Stad Classics' is een programma waar je weer helemaal terug gaat naar je jeugd en dus ook jouw stap-tijd. De Marathon, Corniche Club, Het Teejater, Sandokan, Cartouche, Club Westwood, de IT, Tempel, La D S, of welke club dan ook! Misschien zelfs wel Studio 54! Stil zitten wordt lastig.
It's that time of the year again, Vote now for the only chart that matters. The annual TOP 100 chart for Italo, Disco- & High NRG of all time Edition 19. VOTEHERE
Broadcast is December 30!

Het is december! De maand van de de enige echte ter zake doende lijst; de RSDH Top 100 voor Italo, Disco en High NRG aller tijde welke voor het 19e jaar alweer uitgezonden gaat worden op 30 december.
Stem nu voor jouw 10 beste tracks. Stemmen kan nog tot 27 december. Klik HIER