Beste Luisteraar!
Leuk dat je mailt met de studio.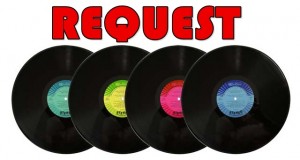 Wij behandelen jouw verzoekje en/of  bericht in de live show op zondag-avond tussen 8 en 11 uur s'avonds.
Dear Listener,
Thanks for mailing the studio.
We will play your requests and read your message in the Sunday evening Live show between 8 and 11 pm CET.
(853)
(13) henk


di, 27 oktober 2015 17:56:46 +0000
---
goeiedag allemaal
graag weer een plaatje aanvragen ..luisterde dinsdag naar de non stop band er kwam
weer een juweeltje voorbij .mooie plaat voor de a.s top 100 ?
..nou velle ph ? nom?ne ..cruel game ..

groeten henk


Hi gwen and all the command of radiostaddenhaag i really like to hear more songs from mirko new album and of cours to know when it will be possible to see the info on the 4 new releases on iventi site thank you and bye


(11) dizzydevil


zo, 25 oktober 2015 22:19:14 +0000
---
hi Guys i know im late in the day again as usual ...you know what im like lol could you possibly play either olivia newton john...the rumour shep pettibone mix or Bertice reading dont bother to knock .....no probs if oyu cant
Hi Gwen & Michiel,

Hebben jullie Taylor_Swift_-_Wildest_Dreams daar ook ?

Verzoekje voor Nathalie uit Antwerpen.

Groetjes uit Brazil,
André.



Yazoo - Don't Go (1982)

Graag zou ik bovenstaande nummer horen.
Echt goede herinneringen aan.
Iedereen in de studio een gezellige avond.

Groet Rene van der Zwan


(8) Vonda Boyz


zo, 25 oktober 2015 21:09:09 +0000
---
hello everyone,

I have a special request this week. Please could play a song for my very good friend Martyn in Bristol who is celebrating his birthday on Thursday.

Tell him I'm sorry I can't be there on the day, but I'm looking forward to seeing him in a couple of weeks when Vonda and Miss Rainbow fly out to Gran Canaria.

He's the best friend a person could have.

Please could you play 'London Boys - Requiem'.


thanks
love and hugs to you all.

Vonda.


(7) willem


zo, 25 oktober 2015 20:18:09 +0000
---
Yoooo radio gasten!

dat ziet er lekker gezellig uit bij jullie!

De DJ's mixte weer heerlijke muziek. ook renaldo draaide lekkere italo uit de jaren 90 zoals phil & stan. heeeeerlijk!

ga lekker doorrrrrrrrrrrrrrrrrr!!

veel succes!

grtz ...

Willem


(6) jack


zo, 25 oktober 2015 19:00:29 +0000
---
Goedenavond,

hoorde afgelopen vrijdag een plaat voorbij komen in de mix van Tony Renzo, die ik eigenlijk al weer vergeten was.
symphonia - you and me

misschien kan Michiel hem via YouTube afspelen, bij gebrek aan Menno's database.

bedankt en de groeten uit Hoogvliet.


(5) Dr Red


zo, 25 oktober 2015 18:15:49 +0000
---
Hey Chiel als je nog tijd hebt voor een verzoekje.... S.O.S. Band- Just Be Good To Me


(4) Barezi


zo, 25 oktober 2015 17:57:54 +0000
---
Hello my great radio team. I really like to watch and listen your Sunday show.

Please play for me song of Alisha, Baby Talk.

Thanks for making a great fun time and all the best from Zelena jama, Ljubljana, Slovenia.


(3) John Davis


zo, 25 oktober 2015 17:56:11 +0000
---
Hi Guys,
No song request from me,but just want to say how excited i am that you're gonna be playing the new Flemming Dalum remix of Giusy Dej's Walking In The Night...This is my 2nd favourite Italo song,and i've been searching for the vinyl of this for many years.I can't wait to finally have this vinyl.
Keep up the good work guys
Thanks
John
hallo guys,

Voor vanavond in de night live show heb ik de volgende nummers op mijn netvlies staan, het is geheel aan het RSDH team of we er via de stream van RadiostadDenhaag met onze trommel vliezen van mogen genieten..............

1: Heavens is Here - CJ Rise (space synth 2015)
2: Never Give Up - Italo Connection (heel mooi ngr nummer uit 2013)


(1) Gunnar


zo, 25 oktober 2015 10:08:48 +0000
---
Happy station, happy music, happy people
Sabrina - Gringo
Hartelijke Groetjes
Gunnar