Beste Luisteraar!
Leuk dat je mailt met de studio.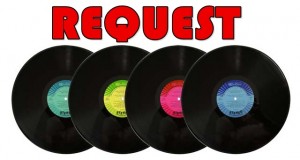 Wij behandelen jouw verzoekje en/of  bericht in de live show op zondag-avond tussen 8 en 11 uur s'avonds.
Dear Listener,
Thanks for mailing the studio.
We will play your requests and read your message in the Sunday evening Live show between 8 and 11 pm CET.
(853)
(193) Gunnar


do, 21 januari 2016 19:19:23 +0000
---
request: Nick John - Planet Nine

Groetjes, Gunnar


(192) Elroy


do, 21 januari 2016 03:00:08 +0000
---
Request DouchCo zondag 24 jan.
TELEX - MOSKOW DISKOW
C.O.D.: In The Bottle


(191) Abydos


zo, 17 januari 2016 22:21:30 +0000
---
Leuk dat jullie Penelope uitlichten.
Als jullie nog behoefte hebben aan de gehele Italo disco database, op label +/- 40.000 nummers, keetje hdd langsbrengen en dat kopieer ik ze voor jullie.
Haat en liefde is lang geleden. En Rick Romijn is blijft een ...... (lol)
(190) Ambtenaar Chris


zo, 17 januari 2016 21:53:13 +0000
---
Ik kon Ryan Paris eigenlijk alleen van Dolce Vita, maar laatst kwam ik deze plaat tegen en die vind ik eigenlijk ook best wel goed.
En deze plaat staat vast op vinyl bij jullie in de platenkast
Hij is in 2010 re-released op Iventi Records als ik het goed heb begrepen.
Ryan Paris - I Wanna Love You Once Again (80s Dance Mix)
Groet Chris
(189) Abydos


zo, 17 januari 2016 21:35:39 +0000
---
Facts & Fiction - Give Me The Night

Gewoon omdat het kan.

Gr. Irc/Efnet # eurodance4ump3 / penelope radio



(188) maurizio


zo, 17 januari 2016 21:33:06 +0000
---
Betty Miranda - Dance

om de vrolijke avond the vullen


Hé Goedenavond Stad ..

De allerbeste wensen voor het nieuwe jaar 2016 en hier alvast een kick-off ..

Vanello Martin Blix - Vagabondo :

https://www.youtube.com/watch?v=6AU9I8yu2KY

Groetjes,

André.



(186) sean burgess


zo, 17 januari 2016 20:49:06 +0000
---
Hi Guys any chance of playing some radiorama? any track will do thanks
(185) Jack


zo, 17 januari 2016 19:42:20 +0000
---
Oh ja,

morgen is het blue monday, dus ook daar zouden jullie iets van kunnen draaien

groetjes,
Jack.


(184) Jack


zo, 17 januari 2016 18:49:38 +0000
---
Goedenavond,

ik heb misschien een instrumentale electro suggestie want het is niet echt spacesynth:
DJ Overdose - Timewave Zero

afkomstig van de in 2015 uitgebrachte EP Master Constrol op het Viewlexx label.

Chiel kan het een en ander terugvinden op Youtube.

DJ Overdose is trouwens geboren in Den Haag als Jeroen Warmenhoven.

groetjes,

Jack




hello guys van radiostad denhaag,

Vanavond in de nightlife show heb ik de volgende keuze (s) gemaakt:

1: Cyber Space - Moon Express (space synth)
2: Shy Rose feat. Tony D. & The Lovetrip Orchestra - You Are My Desire (Elegant Mix ) (old school)
3: Sauvage - Do You Want Me (Vocoder Mix)


oa: DJ Arch. Marcello Bertini - P.A.N.D.A. (Sigla Side) (now streaming on mp3 list menno)


(182) Marco Rijswijk


zo, 17 januari 2016 17:55:23 +0000
---
Inmiddels alweer twee weken geleden, maar hierbij nogmaals de complimenten voor de fantastische Top 100 uitzending, het was weer geweldig. Hierbij een verzoekje die deze top 100 schandalig genoeg niet heeft gehaald:

Roller Force - Subway

Dank en groet!


(181) Gunnar


za, 16 januari 2016 22:27:49 +0000
---
Just listening to Ab & San's party
Can I request "Citi & Byte Sistem - Candy Dance" or "Bo Bellow - Knockin" if you like?
Greetings, Gunnar
(180) Maurizio


vr, 15 januari 2016 12:35:29 +0000
---
Request: quibos - quibos. 1987 italian records
Reden: vorige week voor het eerst de plaat gehoord van dj arch met het nummer p.a.n.d.a.
Ik vind de basline veel weghebben van het nummer topo & Roby under THE ice, maar de melody kwam mijn ook enigszins bekend over.
Ineens schoot het nummer quibos in mijn hoofd, een vrolijk nummer. Als de muziek melodie van dat nummer neemt en een stuk langzamer afspeelt kom je aardig in de beurt van de muziek melodie van dj arch panda.
Das mijn mening dan
Desondanks is quibos gewoon een vrolijk nummer om aan te vragen
(179) elroy


zo, 10 januari 2016 21:35:04 +0000
---
Sabrina - Boys


(178) Miranda Mivino


zo, 10 januari 2016 21:11:35 +0000
---
Helloooo Wij vrouwen (Corina en ik ) willen ook een lekkere video clip zien https://www.youtube.com/watch?v=q2qVc2gtNto Groetjes Miranda x


(177) Kenny Davidson


zo, 10 januari 2016 21:09:45 +0000
---
Hi everyone

Really enjoyed the Top 100 show last week, so many amazing tunes and great to see so much fun happening in the studio. I really appreciate the work and effort that goes into such a marathon show. Congratulations to everyone involved.

Fantasy Ten - Big Bang

Is my request this week as a tribute and thanks to everyone at RSDH who started off 2016 with a "big bang" of a show last week!

Have a great week ahead

Kenny








(176) Georgios Malikoutis


zo, 10 januari 2016 20:58:10 +0000
---
Hey People

I saw a a track out of the top 100 That I would like you to play. It's a track I heard on this studio first "Galaxy Hunter We Came From Space" . I don't really know why I didn't vote it but I love it.

Georgios

Ps I think the captcha are getting really difficult on the form or I don't see well anymore ;-P It's the 3rd time I try to send message and I get "wrong captcha".


(175) Peter


zo, 10 januari 2016 20:50:56 +0000
---
Hoi Gwen,

In 1983/1984 raakte ik bekend met Italo dance door de 2 bekende nummers van Righeira: Vamos a la playa en No tengo dinero. Nummers die ik op mijn cassettebandjes destijds echt grijs gedraaid heb. Het zijn nog altijd mijn favoriete Italo dance nummers. Maar waarom kom ik ze nooit tegen in de Italo (en high energy) top 100? Haalt de gemiddelde Italo liefhebber ze neus er voor op omdat het misschien te commercieel is? Ik hoor graag jouw mening en die van je collega's.

Vriendelijke groeten,
Peter


(174) jack


zo, 10 januari 2016 17:18:31 +0000
---
Hoi,
over de nieuwe release van fred ventura - international language kon ik het volgende terugvinden:

Catalogue n°: DM 012
Artist: Fred Ventura
Title: International Language
Label: Disco Modernism
Formats: 12" vinyl (150 colored + 150 black)
Release date: January 2016
Digital: February 2016

First 2016 release from Disco Modernism, Milan! Fred Ventura new single is a classic Italoconnection production of a song originally written in 1984 and never finished until today. The new arrangements are almost totally inspired by the first demo and only a few ingredients have been added to the final track. To complete the package we asked some of our favourite contemporary producers to rework the song in their unique style. Flemming Dalum go back to the early 80's typical sounds for his rework, Phil R rebuild the song with his personal and melodic touch, Codazzi increase the BPM for another of his pumping remixes. The release is strictly limited to 300 12" vinyls, 150 colored copies plus 150 classic black vinyls. Digital version will be released in February 2016 enjoy it!

groetjes,
Jack.


hello guys,

In deze kers verse nieuwe en eerste nightlife show voor 2016 heb ik de volgende Italo knallers voor vanavond op het verlanglijstje staan:

1: Cat's Disco Lab - Cyber Laboratorium (Space Synth)
2: Alberto D Arca - Dai Dai Dai (Dolce Vita) (Good oldie)


(172) Gunnar


zo, 10 januari 2016 17:13:46 +0000
---
24 H A Day - Valentina (by Angela Parisi & Antonella Pepe)



(171) Jack


zo, 10 januari 2016 17:10:08 +0000
---
Hoi,

Het wordt weer een spannend jaar met mooie re-releases van dure en gezochte platen.
1 van de Holy Grails of Italo maakt dit jaar zijn opwachting. Op facebook verscheen namelijk deze melding:

Gianluca Pandullo

4 januari om 8:22 · Turijn, Italië ·
.
HELLO FRIENDS...
I'M PROUD TO FINALLY ANNOUNCE THAT OPILEC MUSIC WILL EXCLUSIVELY & OFFICIALLY RE-RELEASE THE CLASSIC & ULTRARARE ITALO SYNTH DISCO WAVE MONSTER "A. AVENUE - GOLDEN QUEEN" 12" IN THE NEXT MONTHS... THE PACKAGE WILL INCL. THE TWO ORIGINAL VERSIONS PLUS THE EPIC REVISIONS OF I-ROBOTS & FLEMMING DALUM (WHAT A DISCO COUPLE THIS YEAR...) PEACE & LOVE FROM ALL OF US....


groeten,
Jack.



(170) Stewart


zo, 10 januari 2016 15:36:25 +0000
---
Happy New Year! To everyone at Radio Stad Den Haag.

I would like to request Albert One - Stay.


(169) Gunnar


zo, 10 januari 2016 08:59:55 +0000
---
Natalie Cole - Miss you like crazy
Aleph - Big Brother

Cheers and a brave new year!
Gunnar


(168) Marcin


ma, 4 januari 2016 00:47:08 +0000
---
Well the show is almost over so just a quick thanks to ALL the Dj's ,guest DJ's hosts & guest hosts.
Thanks for almost now 12 hours of music . It was a fun sunday .



(167) FormerlyKnownAsHen


ma, 4 januari 2016 00:25:55 +0000
---
Toppie, dank!!!

Hein


(166) Marcin


ma, 4 januari 2016 00:19:41 +0000
---
Well the show is almost over , so BIG THANK YOU to all the DJ's, guest DJ's, hosts & guest hosts . It was a pleasure to spend 11+ this sunday with Radio City .


Molto grazie voor deze heerlijke jaarlijkse happening!

Alle goeds!
Edward


Thank you all for a great show!!! It was a pleasure to be with you today...