Beste Luisteraar!
Leuk dat je mailt met de studio.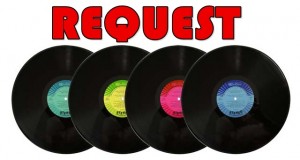 Wij behandelen jouw verzoekje en/of  bericht in de live show op zondag-avond tussen 8 en 11 uur s'avonds.
Dear Listener,
Thanks for mailing the studio.
We will play your requests and read your message in the Sunday evening Live show between 8 and 11 pm CET.
(853)
(373) Jack


zo, 29 mei 2016 21:18:35 +0000
---
Hoi,

feestje:

vrijdag 24 juni van 23:00 tot 5:00
BAR
schiekade 201, 3013 BR Rotterdam

BAR X Bordello

BAR MAIN:

► DJ HELL
(International DeeJay Gigolo Records, DE)

► SIERK & JOSZ LEBON
(The Infamous Mudclub, Bordello A Parigi, NL)

BARPLUS:

► NO MORE - LIVE
(Rent A Dog, Too Late Records, DE)

► FRED VENTURA & AVFAM A Visitor from another Meaning (Alden Tyrell)- LIVE
(Disco Modernism, Bordello A Parigi, IT)

► DE DUPE
(Bordello A Parigi, NL)

•••••••••••••••••••••TICKETS•••••••••••••••••••

Door-sale € 8,-


groet,
Jack



(372) henk


zo, 29 mei 2016 20:23:17 +0000
---
hallo stad dj's zouden jullie deze plaat willen draaien Swan- shining star
alvast bedankt



(371) Hugo Hoogmoed


zo, 29 mei 2016 17:56:27 +0000
---
Radio stad den haag
Kunnen jullie!
Digitronic-disco nights draaien!
Alvast bedankt!
Groeten Hugo Hoogmoed.


(370) Gunnar


zo, 29 mei 2016 17:05:05 +0000
---
kermesse - mr.s moon (the italoconnection re-edit)

groetjes gunnar


hai Gwen & Michiel en the unknown third person ?,

Niet zoals het gebruikelijke weggetje via menno maar deze keer van mexico naar de Ipad van michiel, kortom de wereld kan groot zijn maar je moet net even zelf ook doen waar je net zo groot in kan zijn.

voor deze week heb ik de volgende compilaties op het zang menu staan:

1: GAZEBO - Telephone mama ( Italo oldschool)
2: Italon - Italo Disco (NGR)
3: Cyber Space - Crocketts Theme (Space synth)


link music:

http://www.radioatlantis.club/zip/gtm.mp3
http://www.radioatlantis.club/zip/iid.mp3
http://www.radioatlantis.club/zip/csct.mp3

voor de clips alle mp3 extensies vervangen voor mp4.



(368) Max


ma, 23 mei 2016 21:27:01 +0000
---
Omdat m'n vorige verzoek toch niet gehonoreerd was, schaamteloos een nieuwe indienen. Eentje voor tijdens de Eurobeat straks, Sunday van Nuage of So Fragile van Pamsy. Groeten uit Ehv!


(367) Delta


ma, 23 mei 2016 20:41:14 +0000
---
Kiwi & Tess - Give Your Heart ItaloBios video als je hem kan vinden.....groetjes, Alex


(366) Max


ma, 23 mei 2016 20:32:02 +0000
---
Philip Oakey & Giorgio Moroder - Together in Electric Dreams

Alvast bedankt!


(365) Rick_Rdam


ma, 23 mei 2016 19:56:40 +0000
---
Hey Michiel,
Als je tijd hebt een request 'Scala - Macchina Nera' .. kijk maar.
De video is ook leuk:
https://www.youtube.com/watch?v=yQrbIvIFasg
Ciao.


(364) dizzydevil


zo, 22 mei 2016 21:46:22 +0000
---
hi guys Just sent a track in via the email that is definately for tonights BBQ! a bit of Almighty records camp ..its F.A.F I'm Free


(363) Maurizio Giovane


zo, 22 mei 2016 20:59:49 +0000
---
hoewel ik een groot fan ben van de italo jaren tachtig wil ik de jaren 90 niet te kort doen.
Dus hier mijn jaren 90 verzoek:

Morgana: can i help you baby (1996)
https://www.discogs.com/Morgana-Can-I-Help-You-Baby/release/1031227

Albert One: all i want (1993)
https://www.discogs.com/Albert-One-All-You-Want/release/548640


(362) Jack


zo, 22 mei 2016 20:23:45 +0000
---
hoi lui,

volgende verzoekje spookt al een tijdje door mijn hoofd: NOIA - Stranger in a Strange Land (2015 Remix)
echt een kikke plaat.
Het origineel vond ik altijd al goed maar I-Robots heeft daar een mooie remix van gemaakt.

groetjes,
Jack.



(361) dizzydevil


zo, 22 mei 2016 20:07:27 +0000
---
HI guys dont know if you have it or not but could you please play tell me what he said by Miquel Brown and regina fong


hai guys,

Na het bijkomen van de Iventi en alle milaan perikelen hierbij een request voor de nightlife show wellicht een zelfde als vorige week maar toch effe met iets meer volume voor de luisteraars..
Bij mij blijft styloo met pretty face op nummer 1.
Als space synth heb ik een Space/ Cyber Age combinatie aangedragen omdat dit nummer vrijwel onbekend is maar wel de intensy tot aandacht verdiend !

1: Styloo - Pretty Face ( Iventi knaller )
2: Mike Mareen - Digital Ram (old school )
3: Trans-X - Im Yours Tonight (Electro Potato Remix)
4: CyberTracks Virtual Audio Project - .L.A. Hall (Virtual World) Album Virtual World (Space synth)


(359) Gunnar


zo, 22 mei 2016 12:30:01 +0000
---
Some song requests Lost & Found:
Maldwyn "Mal" Pope - Altered State (1985)
This is a song I heard in the 80s on the radio but lost it until now... I'm so happy I found it again!
And for the techno freaks let's get back to the 90s... drop that ghettoblaster
Cartouche - Feel the groove (1990)
Cheers, Gunnar
(358) Fabrizio Inti


zo, 15 mei 2016 23:43:58 +0000
---
nice t-shirt Paolo


(357) Harst


zo, 15 mei 2016 23:13:35 +0000
---
Leuk om IVenti 30 years party terug te zien via RSDH. Wij hebben het feest helaas moeten missen (snik).
Wel een verzoekje: 93rd Superbowl - Forever and a Day.

Ciao amici,
Marcel van der Harst


(356) Gunnar


zo, 15 mei 2016 20:31:42 +0000
---
Hi everybody,
it would be great to hear Rofo - Summer Love!
Cheeers and many greatings to all of you
Gunnar
(355) john davis


zo, 15 mei 2016 20:25:48 +0000
---
Evening guys,
Glad you all arrived home safe,I just want to say what a pleasure it was to meet,and have photos taken with all of the crew from RSDH in Milan.
The Club 80s gang had an amazing time,and we can't wait until the next time we all meet for another great Italo event.
Catch you all very soon
John Davis
(354) Annemarie


zo, 15 mei 2016 20:25:47 +0000
---
Haaaai, ik kom zo nog effe die kant op
maar wil nu alvast even een plaat aanvragen die ik op de party natuurlijk wel een beetje gemist heb
Primadonna - Angel you
Ciao,
Annemarie
(353) Delta


zo, 15 mei 2016 19:44:56 +0000
---
Als het past verzoekje voor straks; Glam - More Than Ever
Groeten, Alex


(351) Stewart


zo, 15 mei 2016 17:41:38 +0000
---
Hope you all enjoyed being in Milan last week and had a great time.

Tonight's show I request - Taffy - I love My Radio


(350) Willem


zo, 15 mei 2016 16:51:22 +0000
---
hallo radio gasten ...

hoe gaat ie daar? nog een beetje bijgekomen van het feest?

ik heb een paar verzoekplaatjes:

Michael Davidson - Turn It Up

Venice - Ever And Ever

En de spacesynth suggestie:

Music Lab - Play The Game

alvast bedankt en veeeeeeeel succes met de programma's!

grt ....

willem




hai guys,

Met een terugblik en een reflex op de Iventi party in Milaan, hebben wij (elny & teun) live kunnen genieten van de mooiste Italo songs die de wel bekendste Italo artiesten op het podium in de Social Club Centerio te Milaan hebben weergegeven, het was een werkelijk ongekende onvergetelijke mooie Italo avond.

De mooiste dingen blijven in herinnering, zo ook o.a het optreden van Styloo trok mijn belangstelling, de kracht waarmee hij zijn song "Pretty Face " neerzette vond ik "geweldig"
Martin Blix of terwel Italove met Follow me to mexico vind ik de nummer 1 van de avond als we het over space synth hebben met vocals.

1: Styloo - Pretty Face
2: Italove (martin Blix) - Follow me to Mexico

ps. natuurlijk hebben wij ook diverse foto's genomen met alberto garpani en zijn vrouw (die zaten de hele avond nl. naast ons vanwege dat ik zelf niet langer als 10 min kan staan), martin blix, fred ventura en andere italo prominenten maar elny wil deze voor haar zelf houden.



(348) Elroy


za, 14 mei 2016 15:25:09 +0000
---
request voor DoucheCo Michiel:
Samantha Fox - Nothing's gonna stop me now

thankx!
elroy


(347) Packard Six


zo, 8 mei 2016 16:05:51 +0000
---
LASERDANCE-Skydiver
TRANSPORT-Emotion(Flemming Dalum rmx)
CASANOVA-Tears of love


(345) Ewald


zo, 1 mei 2016 20:52:28 +0000
---
Hoi party animals,
Mag ik Atelier Folie - Leave Me Alone - Official 2014 Version horen?
Wel de 2014 versie
Gr.É