Beste Luisteraar!
Leuk dat je mailt met de studio.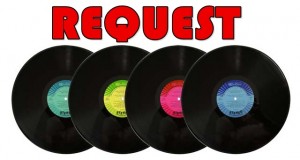 Wij behandelen jouw verzoekje en/of  bericht in de live show op zondag-avond tussen 8 en 11 uur s'avonds.
Dear Listener,
Thanks for mailing the studio.
We will play your requests and read your message in the Sunday evening Live show between 8 and 11 pm CET.
(853)
(463) Vonda Boyz


zo, 31 juli 2016 20:09:38 +0000
---



I think it's perfect weather for a BBQ...

So would you please play 'Sinitta - Cruising' and throw it on the BBQ never to be hear again.


thanks ever so much,
Vonda


(462) sean burgess


zo, 31 juli 2016 20:09:08 +0000
---
just sent Michiel a track for request ..not sure if iv asked for it before but a bit of camp lol its i'm free by F.A.F basicaly its the almighty mix of the them tune from are you being served rofl
will see if i can find some requests a bit more in keeping with the show lol love you guys!
(461) Ewald


zo, 31 juli 2016 18:28:41 +0000
---
Dag luitjes,
Veel plezier vanavond.
Jos heeft altijd een leuke keuze van muziek.
Dus dat komt wel goed.
Toch wil ik de selectie aanvullen met een request voor Savino die zijn best heeft gedaan om zijn woofers op te blazen
Graag DYVA - MY LOVE (DON'T LET ME DOWN) (SAVINO REMIX)
Gr.É
hai guys,

Met dit heerlijke weer hoef je het niet ver tezoeken,een uitstapje naar een plaatselijk buiten zwembad doet effe alle spieren weer geheel los gooien....mits ze dan niet al te vast zitten.

voor vanavond heb ik een paar leuke Italo's uit de oldschool op mijn lijstje....afijn luister ze zelf maar en natuurlijk een vrij nieuwe Space synth van nieumand anders daan Marcel de Van.

1: Francois Feldman - C'est Toi Qui M'as Fait (Maxi Version) ( oldschool Le frans)
2: Shirley Parker - Lover For A Minute (old school)
3: Marcel DeVan - Land Of Fantasy (The Robots Mix) (Space synth)

keep it cool........

teun





(459) Steve Juno Gang


zo, 24 juli 2016 22:38:11 +0000
---
HEYYY!!!!

So cool!!!!!! Thank you sooooo much for support!!!!!!!!!! Fantastico!! Ill send you a copy for free!!

Many greetings from Switzerland!

Steve (Stephan) Moser (Juno Gang)


(458) Steve Juno Gang


zo, 24 juli 2016 22:18:23 +0000
---
Hello dear Radio Stad Den Haag!

How are you? I have brandnew news for you!! A EP with a track from Juno Gang!!

https://www.youtube.com/watch?v=xhxqf0hu4sE

Maybe you like it...;-)

Many dear greetings,

Steve




(457) Georgios


zo, 24 juli 2016 21:10:01 +0000
---
Hello Gwen Mitch Menno

Today's request is a favorite track from the 80's in a digimax remix

Split Minors - The Right Time 2016

I Love that

https://www.youtube.com/watch?v=t0D7wjkpXZo


(456) maurizio giovane


zo, 24 juli 2016 20:19:47 +0000
---
volgens mijn youtube account statistiek de best beluisterde italo song (van de afgelopen maand)

The Voyagers - Distant Planet

https://youtu.be/pdyyft6AJ7U

Verzoek dus




(455) Jack


zo, 24 juli 2016 20:17:29 +0000
---
gaarne dit verzoekje draaien voor vanavond: Starcluster - Smoke & Mirrors ft. Marc Almond

favourietje van Peet Need geloof ik.

groetjes,
Jack.


(454) Vonda Boyz


zo, 24 juli 2016 19:53:49 +0000
---
Hello and good evening, you lovely lovely people.

yes it's true, Vonda is back.

It's been to long, I know. I've been unavoidably detained, but now i'm free (I mean I'm back).
And to mark the occasion I'd like to request a very special song and dedicate it to you all.

Please could you play 'Glam feat. Pete Burns - Sex Drive'.

Thank you, and remember...

Vonda loves you.


(453) Elroy


zo, 24 juli 2016 18:19:52 +0000
---
Request: Lucia - Marinero



hai guys,

Met dit heerlijke weer staat niets minder dan de zon centraal vandaar een paar old school Italo nummers die temaken hebben met jawel de zon of de heerlijke zomer en een fonkel nieuwe spacesynth van Spiral hands.............

1: Moser Moser - El Parasol (Extended Version) (1984)
2: Ted Marvin - Maria La Baia Del Sol (Extended Version)
3: Men Without Hats - Pop Goes The World
4: Spiral Hands On Dr Awesome - 12th Warrior (Ext by Marc Eliow) (Space Synth)

bye bye ,

teun


(451) visitor 107


za, 23 juli 2016 14:43:12 +0000
---
please warp 9 - light years away

thanks!


(450) Ylle


zo, 17 juli 2016 21:55:47 +0000
---
Yazoo - Don't Go or Trans X - Living on Video.
Greetings to the studio.


(449) Ralf Massing


zo, 17 juli 2016 21:43:17 +0000
---
WOW, That was great.
Thank´s a lot.
Wish you all good thinks
for your Show.

Good Night
Ralf



(448) jan


zo, 17 juli 2016 21:31:09 +0000
---
Hallo,

Ik wilde een speciaal verzoekje aanvragen voor Daan;

Suzi Lane - Hamony

Bedankt.

Jan


(447) Ralf Massing


zo, 17 juli 2016 20:56:51 +0000
---
Kano - Another Life
Divine - Shoot your Shut



hoi daaro ,tracy spencer -run to me ...is dat iets voor een zomers gevoel ??


hai guys,

Bij deze mooie zonnige nightlife show op 17 juli 2016 horen zomerse italo klanken, echter na deze roerige week in Frankrijk en Turkije gaan mijn muzikale gedachten uit naar allen die in deze verwarde maatschappij op gruwelijke wijze omgekomen zijn:

1: Canton - Sonnambulismo (vertaald mensen "slaapwandelen" ze weten niet meer wat ze doen)
2: Diana Barton - Tango (Italo old school)
3: Palmer - Computer Guy (Italo old school)





(444) jack


zo, 17 juli 2016 17:15:08 +0000
---
Hey Stadders,

mijn verzoekje voor vanavond: Interface - Plastic Age

al een tijdje niet gehoord.

groet,
Jack.


Hi,
my name is Alex. Is it possble to play a nice song from Radiorama. I mean Radiorama - Yety. Please.
Thanks.
Alex.
Hi can you please play TEMPTATION by THE FLIRTS Featuring CHRISTINA CRISCIONE.
THE FLIRTS Feat. Christina Criscione, Roni Griffith and Miss Kimberly [DJ Girl] will be in Mexico City on October 01, 2016, live on stage doing a tribute to Bobby Orlando .
I live in Los Angeles Ca. and waiting for the phone interview with RONI GRIFFITH
Thank you !!! Great radio show!!!


(441) Ed


zo, 10 juli 2016 20:46:44 +0000
---

Hallo stad dj's ,

Het is weer gezellig.
Vond het leuk om een nummer aan te vragen.

Ik wilde deze aanvragen.

Nemesy - You Can, You Can

Mischien wat minder bekent, maar wat mij betreft , een sensationele goeie italo plaat.

Bedankt!

Groetjes Ed (Naaldwijk)



(440) Maurizio Giovane


zo, 10 juli 2016 20:16:06 +0000
---

Vandaag lekker een strand(tent) bezoek gedaan.
Kinderen in die grote zandbak, ik lekker in een strandstoel luisterend naar italo.
Deze lekkere dag afgesloten met een etentje in de strandtent van Hoek van Holland.

Mijn verzoek past hier wel bij:

CRUISIN' GANG ft LAURA FADINGER - On The Beach tonight





(439) Nigel


zo, 10 juli 2016 20:08:29 +0000
---
Hi guys,
Can i request this one please as it's giving me goosebumps just lately
Philip - Dream Of Me
Thanks
(437) jack


zo, 10 juli 2016 16:47:25 +0000
---
Hey Stadders,

nog een suggestie, eentje op het Bordello label en ook in de laatste Baldeejays mix:

Mario Moretti - Multiverse
https://www.youtube.com/watch?v=4FF46EbwVWg

let op: tis wel een volledig instrumental

nogmaals groet,
Jack.


(436) jack


zo, 10 juli 2016 16:19:29 +0000
---
hey Stadders,

altijd op zoek naar onbekende italo-disco klanken uit de 80s stuitte ik op een plaat die Flemming Dalum heeft gebruikt in een van zijn mixen:
Claudio - Crazy In The Night
https://www.youtube.com/watch?v=fJ3VGehXBkk

nog nooit gehoord maar echt een aanrader, lijkt me leuk om die vanavond ten gehore te brengen.

groet, Jack.


(435) Elroy


zo, 10 juli 2016 16:08:37 +0000
---
Request https://youtu.be/8yk7XY5OeoE


hai guys,

Voor deze week in de nightlife show had ik de volgende old school & Space synth request staan:

1: S. Sadlow - My man (1985) (benelli) (Old school)
2: GIRLY - Working girl (1985) (Orlando) (Old school)
3: Intruder - Space Dust (Pure Space Synth)

groet,

teun