Beste Luisteraar!
Leuk dat je mailt met de studio.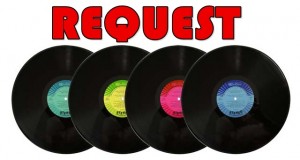 Wij behandelen jouw verzoekje en/of  bericht in de live show op zondag-avond tussen 8 en 11 uur s'avonds.
Dear Listener,
Thanks for mailing the studio.
We will play your requests and read your message in the Sunday evening Live show between 8 and 11 pm CET.
(853)
(643) Louis Smit


zo, 13 november 2016 13:23:18 +0000
---
Good Evening Girls and Guys,

Hope that you all well? Best time of the week.
Sunday night request show and looking forward to the Blanco Y Negro Max Mix Show

My request for tonight - Any One of the following songs

Tom Cat - Blackjack
Marcello - Silicon Dream
Hide Away now ( Man is coming) - Silent Circle
Money - Mozzart
Ken Laszlo - Dont Cry

Have a faboulous week. Italo & High Energy Forever!

Regards
Louis Smit - (South Africa)


hai guys,
Gisteren was het nog de voorruit krabben, vandaag weer regen niemand kan de natuur sturen wat we wel kunnen is een leuk verzoekje aanvragen dan zijn we er bijna zeker van dat deze gedraaid wordt.
in de nightlife show dacht ik met de volgende nummers een goede keuze temaken:
1: Marius M.21 - Radiation Alert (SpaceSynth 2016)
2: Max Anderson - The Night (Hey Ho Ho) (old skool 1985)
3: Twenty Pounds - Do It For Love (Extended Version 1987)
tot vanavond
(641) Gunnar


ma, 7 november 2016 23:11:01 +0000
---
I like to request some lesser known records like this one:
Galvanica - Nightlights In Japan, released in 1987

Groetjes XX Gunnar


(640) Knud Knudsen


zo, 6 november 2016 22:25:33 +0000
---
Hoi Stad team,
Weer een heerlijke uitzending vanavond.
Ik heb een verzoekje, tevens tip voor de top 100 om de plaat wat hoger in de lijst te krijgen.
Natuurlijk: Charlie - Spacer Woman
Ciaoooo


(639) maurizio giovane


zo, 6 november 2016 21:18:47 +0000
---
Tom Cat - Black Jack
https://youtu.be/zfW1SsthMHk

Mixed By – Laurent G.*
Other [Realized By] – M. Farina & G. Crivellente
Producer – Alan Warm
Notes
Produced for Macho Records.
Recorded and Mixed at Factory Sound Studio.
Made in Italy.


he vriendjes

van de week zag ik een berichtje van robert camero ...onder de iventi feest reclame staan oeps een zielige smiley ik hoop nog steeds dat ie ook komt de 17 de want wat en top optreden gaf ie weg en wat ging die uit ze dak hahah


daarom doe mij maar wat van robert camero-love games

dikke kuss voor allemaal en doe rain(steph) de groetjes


(637) Rick_Rdam


zo, 6 november 2016 21:11:12 +0000
---
REQ: Twins - Not The Loving Kind
Specially for Will Reid + Club80's because i love that show ! (and i know they love the Twins as i do).


(636) maurizio giovane


zo, 6 november 2016 21:07:25 +0000
---
WILSON FERGUSON - SHOW ME
https://youtu.be/jsVpUk5M48s

Niet veel aan toe te voegen gewoon een lekker " savage" nummer

Ciao

Maurizio







(635) Hen


zo, 6 november 2016 20:04:49 +0000
---
Hi Gang,

Ben er vanavond weer bij!

Verzoek om deze te draaien
Betty Miranda "Take me to the top"

Grtz, Hen




een hele goedenavond stad team,
Hierbij wil ik graag het volgende verzoekje in de nightlife show aanvragen voor alle luisteraars en natuurlijk voor het stad team
Nick Festari - Web kiss the radio (Extended Mix) (New Generation)
(633) Louis Smit


zo, 6 november 2016 16:07:58 +0000
---
Hi Gwen & Team,

I hope you guys are all well?
I would like to request any one of the following Tracks:

Taffy - I Love my radio (Midnight Radio)
Neon - Fade to Grey
Ken Laszlo - Dont Cry
Ross - Dont Stop
Max Him - Japanese Girl

I am planning to visit your studio to meet the team on a future European Trip!

Thank you all as always for the great work you as a team do @ Radio Stad Den Haag.
Many Kind Regards from East London - South Africa

Louis Smit


(632) henk overkleeft


di, 1 november 2016 20:56:14 +0000
---
graag weer een plaatje aanvragen .a visitor from another meaning .
.. neon lights.. original mix .of tension .my dream
mooie plaatjes voor de top 100 van 31 december ??

groetjes henk


(631) Gunnar


di, 1 november 2016 00:27:36 +0000
---
Könnt ihr bitte "EraOra - No More Illusions" spielen?

Groetjes, Gunnar


(630) billy


zo, 30 oktober 2016 23:56:54 +0000
---
cosa rosa toledo girl


(629) billy


zo, 30 oktober 2016 23:47:07 +0000
---
Laserdance-Cosmo Tron (Light Speed Version)


(628) Dmitry


zo, 30 oktober 2016 23:35:00 +0000
---
Hello, friends!
You have forgotten about my spacesynth request (last week)
If possible, I'll write again: "Laserlight - The Fourth Dimension"
https://soundcloud.com/laserlight-3/laserlight-03-the-fourth-dimension-1992
Thanks in advance!!!
(627) maurizio giovane


zo, 30 oktober 2016 21:41:26 +0000
---
Blind Date heart is burning


(626) Chris


zo, 30 oktober 2016 21:25:28 +0000
---
Hoi hoi vrienden van Stad Radio. Ik kan het niet laten een plaatje aan te vragen wat zo toepasselijk is op alles vanavond. The doctor Frankenstein. Insect records is het label. Ik ga nog een poosje van jullie genieten gr. Chris


(625) Oscar


zo, 30 oktober 2016 21:12:22 +0000
---
Hallo gezeligge Bende van ellende (waar Michiel gelukkig
weer overheen is je weet wel...)

Hier een verzoekje weer Mono Band - Mr. Crusoe
Van de week eindelijk aangeschaft maar zo'n fijne plaat!

Ik zit klaar. Is het niet deze dan de volgende week.

Met hoog energetische groet,

Oz


(624) Stefano


zo, 30 oktober 2016 20:09:27 +0000
---
Hi all!! It's me, Stefano...can i change song?? Please play Venise - Playboy!!!
GO RDSH GOOOOOOOOOOOOO!!!!
Have a nice life!!
Stefano from Parma
Italia
(623) Stefano


zo, 30 oktober 2016 20:03:13 +0000
---
Hi all!
I listen you since 2000 you are the best radio in the world!!! I learned Dutch with you!!
I would like to listen Marcella Bella - Aria it is possible?
Thank you GO RSDH GOOOO!!!!
Stefano from Parma
I T A L I A
(622) Phillip


zo, 30 oktober 2016 20:02:53 +0000
---
Phillip from Florida
I have a request for "You Spin Me Round (Like a record)" by Dead or Alive in memory of the late Pete Burns.


(621) Ruud


zo, 30 oktober 2016 19:29:30 +0000
---
Verzoekje? Doe eens gek: Corynne Charby - Boule de flipper (extended version) leuke franse disco/electro


(620) Fabrice LE GRAND


zo, 30 oktober 2016 19:25:49 +0000
---
Bonsoir, pouvez-vous passé la chanson de Christophe JENAC " Nous n'avons pas choisis ce monde" version MAXI 45T de 1986;
Merci à toute l'équipe GWEN, MICHIEL, et bien sur MENNO....


(619) Gunnar


zo, 30 oktober 2016 15:32:11 +0000
---
Ikebana - Scotland Song

slainte mhath!
Gunnar


hai guys,

Vandaag de 30st oktober alweer het einde van het jaar 2016 nadert snel....vandaag de volgende compilaties uit gekozen.

1: ATTAK - ANOTHER BOY IN TOWN (old skool begin jaren 80)
2: Casarano - Butterfly (Full Dream Version) (New Generation)
3: Birizdo i am - melinda (ep version) (New Generation)


(617) Willem


zo, 30 oktober 2016 12:47:51 +0000
---

hallo radio gasten!

hoe gaat ie daar? het viel me op dat in de stream heel veel nieuwe muziek zit en ook heel veel nieuwe gen! echt heerlijk en vernieuwend. en ook de playlist is bijzonder handig. mijn complimenten!

ik heb nog een verzoekplaatje:

peter wilson - better run away

alsvast weer bedankt. veeeeeel succes met de programma's!

grt ...

willem


(616) Robin


wo, 26 oktober 2016 20:28:14 +0000
---
Hallo peepels,

Hierbij een Haloween request: Dead Or Alive - Something in my house

Pete Burns - R.I.P.

Keep the records spinning around.


Groet,
Robin



(615) Marco Rijswijk


ma, 24 oktober 2016 22:10:51 +0000
---
Geschokt door het overlijden van Pete Burns van Dead Or Alive. Helaas weer een markant iemand overleden dit jaar.
Mijn request voor aanstaande zondag:
Dead Or Alive - You Spin Me Round (Performance Mix)
here is the link for the halloween mix iv done guys way to long for air time as 2 hrs but got some great stuff in there ,paul parker, eartha kitt, lady gaga, angie gold ect ....just incase anyone missed it in the chat when i posted it its there for everyone to download and use for their parties next weekend my present to the stadd listeners
xxx https://www.house-mixes.com/profile/dizzydevil/play/dizzydevils-halloween-mix-2016