Sylvester James was born in LA on september 6.
Sylvester was een disco en soul zanger en een Drag queen, daar kan onze eigen Queen Michi nog een puntje aan zuigen wat in deze wel een vreemde woordspeling is. In ieder geval moeten wij deze Disco Queen vandaag wel in de spotlights zetten en danken wij hem postuum voor al die geweldige disco klappers waar we nu nog van uit ons dak gaan. Trek je wijde pijpen aan, glitterbol aan t plafond en schudden met die heupen. Als clip een wat onbekender nummer maar Disco to the max uit 1978. Disco heat heeft destijds 6 weken op nummer 1 gestaan in de Dance charts. En kijk eens naar het publiek, hoe bedoel je enthousiast….

Sylvester in Discotheek de Marathon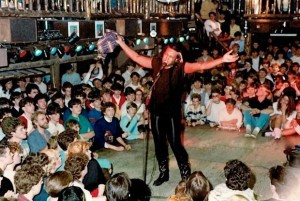 Sylvester, full of Menergy and he makes us feel Mighty Real….Yeahhhhh.
Tags: High Energy, Radio Stad Den Haag, Stad Gouwe Ouwe, Sylvester, Videoclip