Maurice Hayes and his side kick Marcel play dance tracks made  in the US from the 80s/90s.
A fantastic mix of Electro-Funk, soul, hip hop,  R&B, disco, Miami/Latin base and freestyle. Back to San Fransisco, Miami, Detroit and New York.
Every 1st and 3d thursday of the month Live at 8:30pm CET. Chat is open and we have studio cams.
Every 2nd and 4th thursday is the rerun
They also have their own cool website with info, whats coming up and video's; Click here for US Dance Tracks sub website
Radio Stad Den Haag is in de jaren tachtig groot geworden door Italo, High Energy en disco muziek. Maar er werd destijds ook aandacht besteed aan andere muziekgenres. Wat dacht je bijvoorbeeld van soul, funk en electro. Wie kent bijvoorbeeld niet het razend populaire programma Soultrain waarin Ron McDonald wekelijks de nieuwste Amerikaans soul en funk import ten gehore bracht, vaak zelfs als eerste radioprogramma in Nederland. Nu Radio Stad heden ten dage te beluisteren is op www.radiostaddenhaag.com, komt die muziek wat minder aan bod. Maar daar gaan we nu wat aan doen!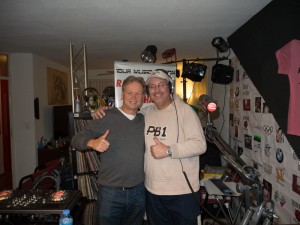 Muziek zoals  soul ( bv aan Luther Vandross, Alexander O'Neal en de SOS Band), funk (Dazz Band, The Bar-Kays, Chaka Khan, The Gap Band) en Electro (Shannon, The Jonzun Crew en Man Parrish).